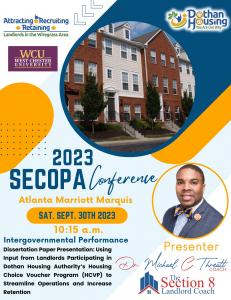 SECOPA Flyer for Dr. Threatt's Dissertation
The Price of Bureaucracy Banner Audiobook on Audible Launch
Dr. Michael C. Threatt presented his dissertation at the 2023 SECoPA in Atlanta, GA & launched the ACX Audible version of The Price of Bureaucracy
I had a great time presenting my dissertation research on Section 8 landlords at the 2023 SECoPA Conference. I also enjoyed discussing ways to improve the Section 8 Program on The PHA Podcast."
— Dr. Michael C. Threatt, Principal & CEO of Elevate Housing Solutions, LLC
DOTHAN, AL, UNITED STATES, November 9, 2023 /EINPresswire.com/ — Dr. Michael C. Threatt presented his dissertation research on Section 8 landlords at the 2023 Southeastern Conference on Public Administration (SECoPA) in Atlanta, Georgia, in September, Using Input from Landlords Participating in the Dothan Housing Authority's (DHA's) Housing Choice Voucher Program (HCVP) to Streamline Operations and Increase Retention.
It felt like yesterday when Dr. Threatt had the epiphany to focus his dissertation research on the opinions of landlords based on the planned Moving to Work (MTW) Landlord Incentives Cohort as he was reviewing the MTW memo from HUD's General Deputy Assistant Secretary of the Office of Policy Development & Research (PD&R) Todd Richardson to the Research Advisory Committee (RAC). He decided at that moment to be the superhero to address the phenomenon of landlords leaving the Section 8 Program (HCVP) in record numbers.
Landlords have complained for years about the regulatory and bureaucratic burden and the lack of incentives that come with accepting HCVs. In 2018, HUD launched the Landlord Taskforce to gain insight into landlords' Pain Points and why they were leaving the Section 8 Program. The Landlord Taskforce was the first time in the history of the Section 8 Program that HUD acknowledged that there was a problem and sought solutions from landlords.
Landlord experience numerous Pain Points that create negative experiences and are the reason for their withdrawal from participating in the Section 8 Program, such as:
• Dealing with the bureaucratic red tape

• Burdensome administrative paperwork

• Slow and antiquated processing

• Subjective HQS inspection process

• Laissez-faire PHA leadership

• Inconsistent policies

• Inefficient practices

• Incompetent staff

• Lack of professionalism

• Out-of-date housing software

• Poor communication

• Lack of a direct staff person devoted to landlords (Landlord Liaison)
This is where the research conducted by Dr. Threatt comes into play. His research is significant because minimal research has focused on obtaining landlords' thoughts and opinions on how to streamline the operations of the Section 8 Program through technology to retain their participation. Dr. Threatt's dissertation study addressed the gap in research to better understand landlords' critical role as a stakeholder in the Section 8 Program. His dissertation study also addressed the research gap to create recommendations for public policy solutions to retain the landlords' participation in the Section 8 Program by validating affordable housing policy reform such as the bipartisan bills, The Choice in Affordable Housing Act (S. 32/ H.R. 4606).
Furthermore, Dr. Threatt's dissertation has created new knowledge of how to improve this public-private partnership, which he has implemented at DHA, where his research was used for the agency's MTW Landlord Incentives Cohort #3 application and supplement plans. DHA has been able to test innovative strategies by monetarily and non-monetarily incentivizing landlords to accept Section 8 vouchers, which has resulted in 100-plus new units and 50-plus new landlords being added to the agency's Section 8 Program over the past two years. The agency won two merit awards under the Affordable Housing category for Attracting, Recruiting, & Retaining Landlords with Technology and the Wiregrass Landlord Tour at the 2023 NAHRO national conference in October.
There are numerous pain points for landlords that Dr. Threatt mentioned in his article with the American Apartment Owners Association (AAOA), "What are the Top 5 Section 8 Landlord Pain Points & Solutions to Remove Them." He highlights that removing the bureaucratic red tape will improve relationships between landlords and PHAs. This will improve the landlords' experience as satisfied customers by treating them like mutual business partners. The pain points are alleviated when the PHA implements private-sector business practices and invests in technology.
Dr. Threatt is excited to release the ACX Audible version of The Price of Bureaucracy: Removing Section 8 Landlord Pain Points Through the Investment in Technology. The Price of Bureaucracy is a must-read for anyone concerned about the future of affordable housing in our country. In addition, he enjoyed working with Actor and Voice Narrator Reuben J. Tapp while recording the audiobook version of his book.
Dr. Threatt recently did an in-depth interview on The PHA Podcast with the Host Stefan Gillam on "Unlocking the Section 8 Paradox: A Deep Dive on Affordable Housing," where he discussed his book's purpose. On the podcast, he highlighted how his book focused on innovative solutions to increase landlord satisfaction, improve communication, and enhance customer service to cultivate better PHA-landlord relationships by investing in technology.
In the book, Dr. Threatt argues that investing in technology would make the Section 8 program more efficient and effective for landlords and Section 8 tenants. He believes that this would make it easier for landlords to participate in the program, and it would also expand housing opportunities for Section 8 tenants.
He proposes specific solutions and highlights specific examples of how technology could be used to streamline the Section 8 program, such as:
• An online landlord portal with 24/7 access landlord portal that provides e-signature for HAP contracts, leases, and other forms. The landlord portal offers secure access for landlords to manage their Section 8 rental portfolio, including rent increase requests and financial information such as direct deposit payments and 1099 forms.

• A landlord webpage on the PHA's website with language for potential landlords or former landlords interested in returning to the Section 8 Program, including a landlord newsletter, rental calculator, and payment standards (fair market rents in the area).
"I had a great time presenting my dissertation research on Section 8 landlords at the 2023 SECoPA Conference. I also enjoyed discussing ways to improve the Section 8 Program on The PHA Podcast." Dr. Threatt is a national subject matter expert (SME) on the Section 8 program and scholar-practitioner. He is also known as The Section 8 Landlord Coach. As a landlord himself, he has coached hundreds of landlords throughout his 18-year career involvement with the Section 8 program and provided consulting services for other PHAs.
Dr. Threatt is available for media interviews, including podcast interviews. He can be reached by phone at (205) 552-9491 or by email at [email protected].
Dr. Michael C. Threatt
Elevate Housing Solutions, LLC
+1 205-552-9491
email us here
Visit us on social media:
Facebook
Twitter
LinkedIn
Instagram
Unlocking the Section 8 Paradox: A Deep Dive on Affordable Housing with Dr. Michael C. Threatt


Originally published at https://www.einpresswire.com/article/644765327/dr-michael-c-threatt-discusses-the-section-8-paradox-on-the-pha-podcast-launches-the-price-of-bureaucracy-audiobook