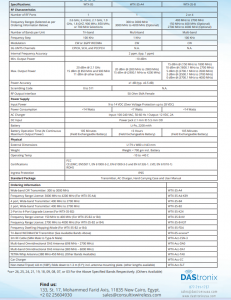 Consultix WTX-35B-2 or 4 Port CW Transmitter Data Sheet with all options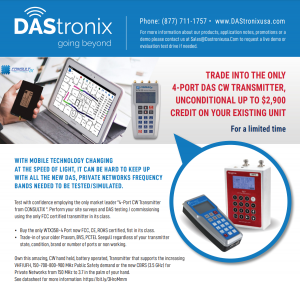 Buy the WTX-35B-4 Port CW Transmitter and trade-in your non or working CW Transmtter, while promotion last
Testing DAS in C-band? Check our latest CW Test Options, C-band offers bandwidth to accommodate the high capacity required for the true indoor 5G experience.
ORLANDO, FL, USA, August 30, 2023/EINPresswire.com/ — Greetings from DAStronix & Consultix, C-band offered valuable bandwidth to accommodate the high capacity required for the true indoor 5G experience. And most of the DAS equipment providers promptly responded either with new standalone solutions for the C-band or additions to existing/legacy DAS systems.
In both cases, only a well-designed and tested 5G network running on C-band is able to provide good signal propagation to penetrate building walls effectively. Hence, the new spectrum which lays from 3.7 to 4 GHz requires relevant test instruments to examine and configure the DAS infrastructure properly. Consultix listened to its customer requirements early ahead and made available 4 GHz options in some of its handheld CellWizard CW transmitters and the Safari high-power CW transmitter families. Now all the CellWizard family supports C-band with the single-port or the multi-port models. And as usual the upgrade is just a softkey license.
Consultix CellWizard CW Transmitter is designed specifically for the IBS/DAS environment, with features such as: Wide-band frequency operation from 150 MHz to 4.2 GHz, covering all bands and technologies including c-band, Simultaneous multi-port operation, Battery-operated and ultra-portable handheld form factor, Readable signal by any scanner, CW receiver or signal/spectrum analyzer, IP65 ingress-protected, FCC & CE marked and ROHS compliant product, Intuitive interface for maximum ease of use.
With the CellWizard test transmitter, you can complete all required CW tests on all frequency channels and cover all test points in the venue within a very short time. You can also verify your design against the desired coverage.
If needing to simulate a high power CW test for a DAS system from 2 or 5 watts sub 6 GHz we encourage you to look at our Consultix WTX-610 illuminator is the gold standard for portable RF test transmitters/signal generators. Wideband operation up to 6 GHz allows the illuminator to address all your needs of test transmitters/signal generators even over unlicensed bands for LTE, CBRS and C-Band. This feature combined with the ultra-portable handheld form factor and innovative touch interface for maximum ease of use make the illuminator a convenient choice for laboratory users as well as field applications such as DAS & Small Cells radio planning and testing. IL-P3 2-watt CW output for CBRS category A antenna testing. New option: IL-P4 5 watt CW output for all Cellular and the New C-Band Spectrum.
Contact us now to discuss your requirements and our experts will advise for the optimum model/configuration for your profile. DAStronix P # 877-711-1757 or [email protected]
Sam Valdivia
Dastronixusa
+1 877-711-1757
email us here
CW DAS Testing for Public Safety, Cellular, CBRS and now C-Band Testing on all 4 Ports
Originally published at https://www.einpresswire.com/article/652657734/testing-das-in-c-band-check-our-latest-cw-test-options