Designed to Erase the Catch-22 in Real Estate Transactions, this Program Offers Peace of Mind for Buyers and Sellers Alike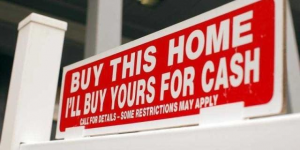 Designed to Erase the Catch-22 in Real Estate Transactions, this Program Offers Peace of Mind for Buyers and Sellers Alike"
— Rudy L. Kusuma
LOS ANGELES, CA, UNITED STATES, November 10, 2023 /EINPresswire.com/ — Your Home Sold Guaranteed Realty, a leading name in the real estate industry, is pleased to announce its innovative Guaranteed Sale Program for the year 2024. Spearheaded by Rudy L. Kusuma, the company's CEO, this innovative program tackles the primary obstacle most real estate transactions face: the contingency of selling a home before buying another.
Guaranteed Sale Program: An Insurance for Sellers

"We understand that the biggest fear for anyone entering the real estate market is getting stuck with either owning two houses or none at all," says Rudy Kusuma. The Guaranteed Sale Program serves as an 'insurance policy' for sellers. It enables homeowners to put their property on the market without the stress of potential double-mortgage payments or, conversely, being left without a home to move into.
How It Works

Your Home Sold Guaranteed Realty's Guaranteed Sale Program has a twofold approach. Firstly, the company prominently advertises its unique offer— "Hey Buyer! Buy this house and we'll buy yours!"— across all its digital marketing platforms and even on yard signs. This creates an irresistible draw for potential buyers, 80% of whom need to sell their current home before purchasing a new one.
When buyers like Bob and Mary find their dream home but are hesitant due to the need to sell their own property first, Rudy Kusuma and his team step in to guarantee the sale of their existing home. This enables Bob and Mary to make an offer that is not contingent on the sale of their property.
"Here's the kicker. By representing both the buy and sell sides of the transaction for both sets of homes, we can offer up to 95% of the market value for the homes involved, ensuring that sellers get top dollar without the usual roadblocks," adds Kusuma.
Stand Out from the Crowd

In an overcrowded real estate market, where buyers seldom pay attention to who holds the listing—be it XYZ Realty— Your Home Sold Guaranteed Realty's program acts like a neon billboard, making listed homes stand out. "We are the ONLY agents who will buy your buyer's home, thereby breaking the deal deadlock," states Rudy Kusuma.
For more information about the Guaranteed Sale Program and how it can make your real estate journey seamless, please contact Your Home Sold Guaranteed Realty at www.YourHomeSoldGuaranteed.com
About Your Home Sold Guaranteed Realty

Your Home Sold Guaranteed Realty offers a transformative solution to one of the most nerve-wracking challenges in today's real estate market—the dreaded catch-22 of being stuck with two homes or none at all. Through their unique Guaranteed Sale Program, the company promises to purchase your home if it doesn't sell, effectively serving as an insurance policy for sellers. This game-changing approach not only removes the burden of a home sale contingency for buyers but also enables sellers to get top dollar for their property. By ensuring that 80% of buyers—who have a home to sell before making a new purchase—can confidently make an offer, Your Home Sold Guaranteed Realty creates a seamless, stress-free transaction environment for all parties involved.
RUDY LIRA KUSUMA
YOUR HOME SOLD GUARANTEED REALTY, INC.
+1 626-789-0159
[email protected]
Visit us on social media:
Facebook
Twitter
LinkedIn
Instagram
YouTube
TikTok
Other
Overcome the Real Estate Catch-22 | Guaranteed Sales Program Explained


Originally published at https://www.einpresswire.com/article/667728411/your-home-sold-guaranteed-realty-introduces-the-transformative-guaranteed-sale-program-for-2024